Axios Systems selects ITEP as their HR business partner
ITEP has been selected to support Axios in their International Talent Acquisition needs, In light of recent demands in international business.  Prospective Axios International Sales Executives were selected last week during ITEP's Meet & Match approach to talent acquisition.
As Heerco Groenewegen, Vice President International, puts it: ''It's great working with ITEP as they understand our business and their 3 steps to recruiting top people fits our requirements. ITEP is firmly committed to Axios' expansion plans and helps us find Mr. and Mrs. Right in an extremely short period of time.'' 
 Axios was founded in 1988 in response to the growing business importance of IT and the need for more reliable and cost-effective IT services.  Led by founder and CEO, Tasos Symeonides, Axios Systems is an independent business with a unique heritage and consistency of vision. As a company, we're big enough to deliver on our promises and small enough to care about our customers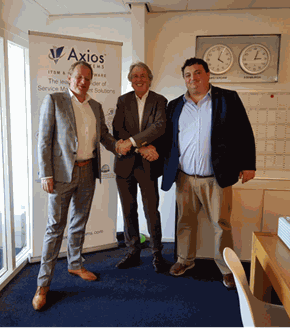 Axios' Executive Vice President Andros Symeonides together with Heerco Groenewegen and Edze Hiemstra after a Meet & Match at the beautiful downtown Amsterdam offices of Axios.