An exciting Search and Select mission
It almost seems too good to be true when your former boss asks you to contact a CEO who is looking for a Managing Director for his thriving Data Center Solution business in The Netherlands.  And you are the lucky one to be asked for the exciting Search and Select mission!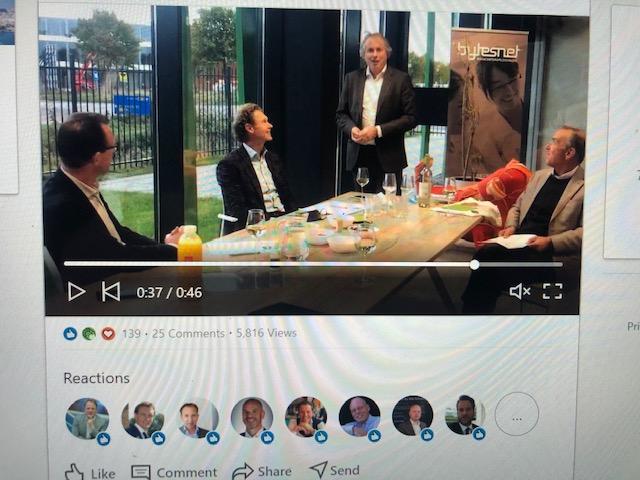 This happened to me recently when Leo Smits, former member of the board of Getronics and executive board advisor to Bytesnet, called me to contact Peter de Jong, the CEO of Bytesnet.  In light of the great quality of services Bytesnet stands for, the search for Mr. or Mrs. Right was crucially important and the requirements of the person enormously tough!  As Bytesnet has an extremely impressive facility in the Northern Dutch city of Groningen and a well-running facility in Rotterdam, the ideal candidate would be a ''local hero'' and someone who would not mind to be on the road to visit both locations and their thriving clients spread throughout the country.
ITEP's 5x5 approach

In line with ITEP's 5x5 approach to recruitment the Bytesnet team  was able to meet & match with 5 candidates within 5 working days.  ''Gold medalist'' Jan Joris van Dijk got the job based on his great background, personality and track record.  The fact that lives in nearby Friesland also  contributed to be selected for the heavily contested and exciting position.  As Jan Joris puts it "I know Edze for almost 20 years and sure, years passed that we hardly spoke. But I stayed on his radar screen and apparently out of the blue he called me with a straight message: "I have the spot-on opportunity for you!"
Now being on the job, I can only say that he was fully right. Bytesnet is a first class service provider for demanding A+ clients and so being the infrastructural engine for many critical processes in our society. We are now ready for a next phase with new services like High Performance Computing and entering new markets. This ensures an exciting future and together with a great team I'm confident that we continue the impressive track record of the company. Bytesnet already feels like home and I'm grateful to Edze that he saw that connection right away!" 
I know I love it when a plan comes together  is a quote from fictional character, Col. Hannibal Smith of the A-team yet I couldn't think of a more appropriate header and footer and am really excited with Jan Joris van Dijk and the value and experience he brings to the Bytesnet team!
And thank you Peter de Jong for granting me this opportunity and Leo Smits for being such a great former colleague and friend.
Contact us